Admittedly, managing sickness absence is not an easy endeavour. How can you set parameters for measuring the absence when some of these absences are very legitimate? Morally you might feel torn as an employer to measure such absences and to access employees' personal medical files with their permission from their GP. In additon how many companies have the in-house medical staff to ascertain the veracity of the claims alluded by employees? There is no doubt that managing sickness absence certainly has its challenges but following a process that is fair and consistent will support you in doing so.
Why the Fuss about Sickness Absence?
According to a report published in 2016 by The Office for National Statistics, sickness absence is a serious problem for most organisations. The report indicated that in 2016, organisations lost some 137.3 million working days due to sickness absences in the UK. The report further indicated that Minor illnesses were the most common reason given for sickness absence, with more days being lost due to coughs and colds. The following chart provides an illustration of the breakdown of sickness absence during 2016.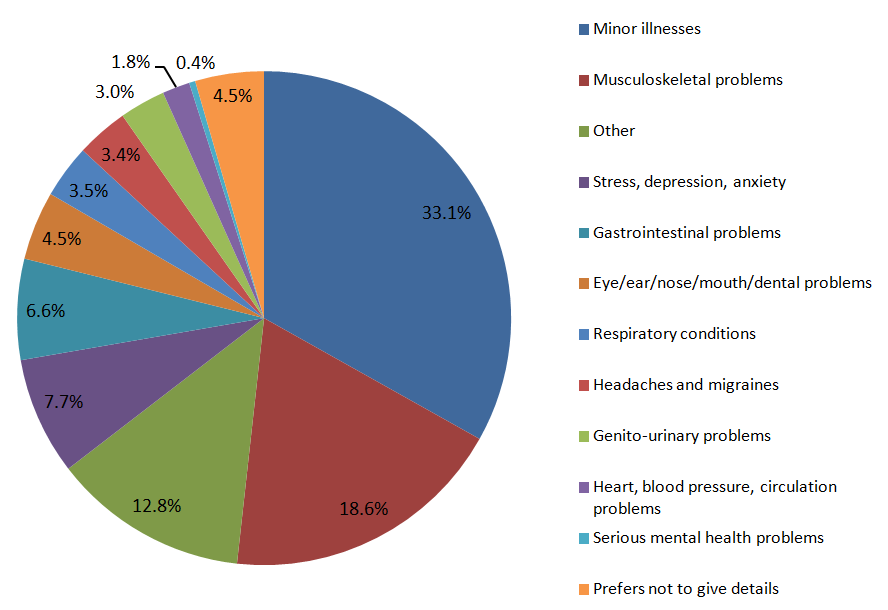 Furthermore sickness absence is costing the UK economy a staggering £18bn per year. It is estimated that by 2020 this figure will increase to £21bn. This is certainly a very high number. That is why managing sickness absence is a necessity not a choice.
Recurring Cases
Indeed, sickness absence cannot be eliminated from any organisation. After all, nobody chooses to fall sick. But one of the ways the management of sickness absenteeism can be controlled is by focusing on the recurring cases.
The important consideration in addressing recurrence is through determining whether the absence could be of a medical nature or whether some hidden agenda actuates it. Once you determine the root cause of the problem, you can then decide on the approach to take. When hidden agendas are the cause of sickness absence, then, consider taking measures to manage the employee through the appropriate process such as performance or disciplinary. If there is a genuine medical reason for the absence then you will need to enact your Absence Management Procedure.
Regardless of the route you take you should always consult with your Human Resources representative to help provide you with the legally compliant support and guidance you require.
Return To Work Meeting
Absence that has occurred due to medical reasons should be addressed by initiating a discussion with the respective employee(s) to unravel what the main problem is. The discussion should be in the form of a structured interview, that is often referred to as a Return to Work Meeting. This enables the employee to explain the reason for their absence and any underlying causes that may have caused the absence. It also allows the employer to explore the reasons for the absence and to gain a better understanding of the employee's health.
Allow the meeting to be in a manner that enables the employee to be free to reveal any issues they might have. Make a note of facts such as the condition or diagnosis that the employee may share with you, any medication that they have been prescribed and whether this could have an impact on their ability to perform the role safely which they are employed in. It is also preferable to obtain the name of their General Practitioner for future reference in case there is a requirement to write to the employee's GP (with their consent).
What To Do If Sickness Related Absence Is Noticed
If you establish that an employee has some sickness related challenges that result in recurring absenteeism, then the company or senior staff has a duty of care to ensure that the working environment is appropriate. The employer can initiate some adjustments to accommodate the employee so they have the opportunity to continue to work. Based on the type and level of seriousness of the sickness, as an employer, you could use the following supporting mechanisms:
Implement a Flexible Working arrangement.
Assistance with travelling to work.
Modified duties.
Phased return to work programme.
Ergonomic equipment.
Substitute role.
Support such as counselling, advice etc.
You may unfortunately have to accept that despite your best endeavours and by working through the procedure compliantly the employee may not be able to return to work due to their condition being too debilitating. In such circumstances you would have to terminate their employment due to reasons of ill health.
As an HR practitioner or employer, you should always remember that you have a responsibility of managing absence and providing any appropriate support. Always be open and transparent with affected employees and explain the process you are following and why.
Absence Management Policy
It is important to have a good Absence Management policy to enable you to keep your Nursery's absence costs under control. Moreover, an employee will be motivated by the fact that as an employer you are showing some concern for their welfare. After all, who wants to go through the emotional and psychological pain associated with sickness? Nobody! An Absence Management policy will, therefore, let your employees feel that someone is helping them with their struggles and supporting them in the workplace.
Return to Work Support
Employers should provide return to work support to those suffering from ailments after sickness absence. Occupational health therapy should be considered if there is persistence in sickness absence. If your organisation engages in using occupational therapists, in many cases this can result in a reduction in workplace absenteeism and improve employee performance.
The essence of keeping workplace recurring absence at its lowest is to provide a win-win outcome for both employees and employers. Other than having an effective Absence Management policy, your company can adopt the following measures to manage employee sickness absence:
Health insurance for all employees.
Attendance bonuses.
Flexible Working or a Career Break.
Conclusion
There is no magic ingredient when managing sickness absence. But you knew that already. However the situation is not hopeless and there is action you can take to keep it under control. Tracking and monitoring trends in sickness absence is essential and keeping in touch with sick employees is the number one way to effectively resolve most sickness absence cases.
In summary the following is a reminder of the key activities you should be adopting as an employer to control sickness absence in your nursery:
Clear procedures and processes accessible through a robust, compliant and fit for purpose Absence Management Policy.
An Employee Handbook accessible to all employees outlining the core sickness absence procedure.
An excellent monitoring system that tracks and monitors all types of absence.
Frequent communication with absent employees.
Return to Work Meetings.
Making reasonable adjustments to support an employee back into the workplace.
Accessing Occupational Health Support.
Writing to the employee's General Practitioner to obtain information about their medical status. Consent from the employee must always be received first.
Use of Employee Assistant Programmes.
If you require HR support to assist you with any Sickness Absence issues in your nursery then please contact us for a no obligation chat.
The Nursery HR People Team
01509 833121
Less HR More Learning!