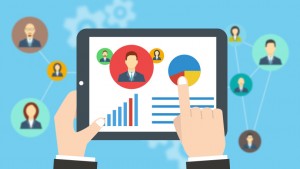 Here are 5 reasons why having an HR software system could help your nursery. Many of you may be thinking about the benefits of switching to a HR software system. For some of you, you will already be using HR software and likely reaping the many benefits it offers.
Making the switch if you haven't already doesn't have to be painful. In fact if you have the right supplier the hard work should be taken care of for you. The real challenge is overcoming your own personal mindset and embracing everything that a good HR software system has to offer.
The following 5 reasons have been identified as some of the key benefits you will enjoy when using an HR software tool.
Improves Productivity and Frees Up More Time
It is a fact that using HR software is much easier than wading through mountains of paperwork and manually carrying out HR tasks that can be streamlined through software.
For example many of our clients have approached us because they simply could not bear the thought anymore of manually writing their own employment contracts. With so many variables and changes in law occurring it was proving a big task and becoming very time consuming.
Since switching to our HR software solution this task has become much easier, simple and manageable for these clients. It has ensured that they no longer have to worry about changes in the law as the system manages this for them. The contracts are all written for them and legal clauses are simple to add or remove with a simple click of the mouse. In terms of the time benefits employment contracts are generated in less than 6 minutes, emailed out to the employee and returned having been electronically signed.
Now that is super productive!
Security
We live in an age where security is of paramount importance. Protecting individual's data is crucial and demonstrates as an employer that you are taking your responsibilities seriously and abiding by the Data Protection Act 1998.
If you are using paper based HR records and have no means of backing these up or storing them electronically then you are running the risk of compromising your employees data. Through storing HR documents in a secure software you are safeguarding precious information. In addition Ofsted will look favourably upon you as a nursery who makes sure you secure vital data.
Cost Effective
There can be a perception that the cost of HR software far outweighs the benefit of using it. However I disagree. The money spent on HR software should not be considered as a cost but as an investment. You will be investing in your nursery's future by having a HR software system in place.
Not only will your data be safe but you will be ensuring that you are compliant and meet your Ofsted responsibilities without the burden of you manually tracking and keeping on top of your HR activities. The time alone that you will save through using HR software far outweighs the investment that you will make.
If you are someone who values your time and would rather be working on growing and developing your nursery rather than tackling your HR administration requirements then you will definitely value the cost effectiveness that such a system will provide.
Increases Efficiency
Through using a HR Software tool your efficiencies in how you coordinate and manage your HR tasks will increase significantly. You will no longer have to manually complete routine tasks that can be done far more efficiently by using software. You will be able to reap the benefits instantly and wonder why you didn't make the switch sooner.
Ensures Compliance and Reduces Errors
This is so important for you and your nursery and could be regarded as your biggest reason to use HR software. With the constant change in employment law and the requirements that Ofsted demand from you ever increasing then you really can't afford to leave anything to chance. This will be no different for your HR management.
Using HR software provides you with a safe and compliant tool that not only makes your life easier from a time and efficiency point of view but will keep you compliant and on the right side of the law. For example The Nursery HR People provides HR software that is kept up to date 365 days per year in line with employment law ensuring you will never be at risk of legal compliance.
Furthermore because we have written all of your employment contracts and HR Policies for you there is no chance of errors being made in the documentation you issue to your employees or Ofsted when they complete your inspection.
You will be safe in the knowledge that everything is being managed properly without any serious consequences. Now that has to be worth the investment of using HR software.
Final Word
I hope you have found this article useful and it has explained to you the real and tangible benefits there are in using HR software.
As always if there is anything you would like to discuss on this topic or would like more information on The Nursery HR People's HR software then please visit our website for further details.  And don't forget to take advantage of our Free Trial of the software.
Donna Fairbrother
Director
The Nursery HR People
donna@thenurseryhrpeople.co.uk
01509 833121
Less HR More Learning!
Have you received your free copy of our ebook which shows you how to free up more of your time whist still delivering outstanding results in your setting? If not then click here to get your copy today!